Rum Cakes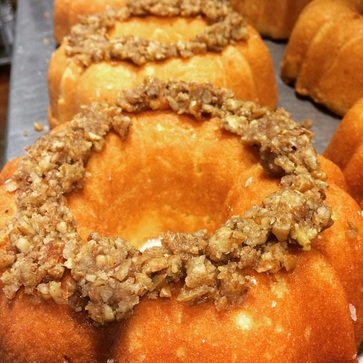 Our
Signature Rum Cakes
---
Savannah Rum Runners Bakery has been providing our signature rum cakes to Savannah and the world for over 18 years. Our trademark dessert got its fame from a mouth-watering combination of rum, fluffy yellow cake, and a topping of rum butter glaze with pecan crumble. Our recipe has been developed over many generations, and as a result it cannot be beat for flavor, taste, and texture.

Rum Cakes make great gifts for the holidays and other occasions. Our rum cakes should last unrefrigerated for well over a month. However, it is important that you keep it wrapped in plastic to preserve its freshness. It can also be refrigerated or frozen.

We offer three sizes of cakes; Mini, Small, and Large. We also offer our Mini sampler packages which include any combination of Yellow Rum, Chocolate Rum, Kahlua, and Key Lime.

We ship our rum cakes worldwide. Please let us know if we can send a package to someone on your list this year. For current pricing on our most popular packages, please click on the link below.
Please call us at 912 - 355 - 4177 or email us at rumcakes@savannahrumrunnersbakery.com to order or for additional information.